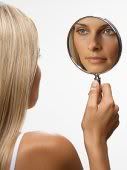 What do you see when you look in the mirror?
Recently, a wonderful friend wrote and told me what she sees when she looks at me.
I was humbled by her words, and surprised really, for I don't see what she sees.
She was very complimentory and I won't share her words, for I don't feel deserving of them.
When I look in the mirror, I see insecurity, hesitation, fear and doubt.
Sometimes I see joy, sometimes sorrow.
On a good day I see a smile that's staying. Other days, I don't bother looking.
I wonder what God sees when He looks at me?
I know what I want Him to see.
I'm not sure He does.
He knows me inside and out. I cannot hide from Him.
What makes me think I can hide from the world?
Sometimes I feel I can't be real with people. I want to be, but I'm afraid of what they might say
when they find out I'm not perfect.
The thing is, life is short and getting shorter every day.
We're going to be held accountable for our actions.
I don't have time to not be real.
So I apologize now, because what you see is what you get. I'm going to make every effort to be real.
If you want to know how I'm doing, just ask. If you really don't want to know, please don't ask.
And if you do ask, don't be surprised if I ask you if you really want to know...
And praise God for His promise!
"Now we see but a poor reflection as in a mirror; then we shall see face to face. Now I know in part; then I shall know fully, even as I am fully known." 1 Corinthians 13:12
When I see Jesus face to face, I want Him to smile at me and say, "Yeah, it wasn't always pretty, but you kept it real."