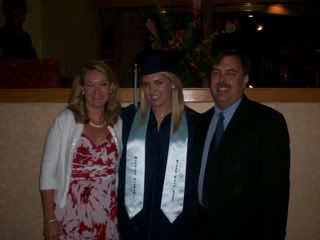 It's been a busy few weeks around here. Sarah's graduation was wonderful. We're so proud of her, but it's a bittersweet time for us. Next week she'll head off to her summer job in Canada, and then it's off to university in the fall.
Exciting, but scary.
For all of us.
I'm trying to focus on the good, but sayng goodbye is hard.
At least I know we'll see her over the summer. But after that, it's a whole new ballgame.
She'll be fine. So will we.
We didn't come this far just to chicken out, did we?
Life must be lived with determination, boldness, and exuberance.
I know that letting go of those we love is all part of it - letting go and letting God.
He will take care of her.
And I'll be looking forward to Christmas way early this year!!!