Today in the Uk it is Baby Loss Awareness Day. I know many in the States are also remembering little loved ones on this day.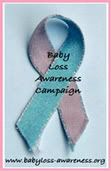 We lost my great-niece Olivia this past year, and the healing is hard.
She was a precious gift from God.
Please continue to pray for her Mom Laura.
We miss you Olivia. You were dearly loved.
What a peace we have in knowing you are in Heaven playing with Jesus.
Pray for all those today who are grieving the loss of a child.